About the Conference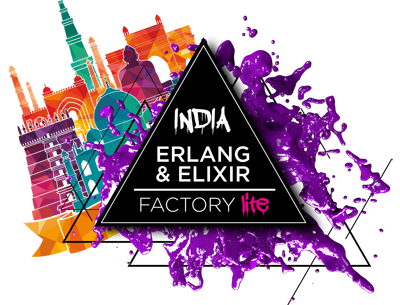 First
Erlang & Elixir Factory Lite Conference
in India
Nov 17th, Hosted by Functional Conf
Functional programming has been a hot research topic for over three decades now. However, in the last five years, driven by the need to build massively concurrent systems and to handle big-data in smarter ways, diverse companies - ranging from tech start-ups to financial institutes - are rapidly adopting functional programming concepts.
Currently, functional programming is at the heart of every new generation programming technology. Companies are employing functional programming to actuate more effective, robust, and flexible software development. This has given birth to an extremely vibrant community of functional programmers, who are constantly exploring new and varied ways to bring in functional programming concepts to the enterprise software development world.
Functional Conf is designed to bring together the growing community of functional programmers under one roof.
At Functional Conf:
Participants can understand the fundamental concepts of functional programming
Participants can learn how others are leveraging functional programming to solve real world problems
Experts can share their expertise on practical usages and gotchas in functional programming concepts
Practitioners can meet peers and exchange real-world experience
Sponsors
Founded in 2011, GreyOrange is a multinational firm that designs, manufactures and deploys advanced robotics systems for automation at warehouses, distribution and fulfillment centres. With deep domain expertise, world-class hardware and software engineering, the company is disrupting the way logistics and supply chain processes across the world. Headquartered in Singapore with offices in Hong Kong, Japan, Germany and UAE, and a state-of-the-art Research and Development center in Gurgaon, India.
GO-JEK is Indonesia's first unicorn is currently the fastest growing start-up in South Asia and the largest in Indonesia in terms of valuation, funding raised and number of transactions. Having started as a bike-taxi hailing business, the start-up grew more than 900X (that's 90,000%) in just 18 months and diversified into food delivery, one-hour courier delivery, grocery delivery and has even aggregated trucks on its platform. It has partnered with over 300,000 two wheel and four wheel drivers and 5,000 trucks across Indonesia, all of whom, collectively cover an average distance of 7 million kilometres each day.
In August 2016, GO-JEK had raised over $550 million in a new round of funding led by KKR and Warburg Pincus LLC, the largest ever for an Indonesian technology start-up. GO-JEK is now the largest food delivery company in the world outside the China market, and is the equivalent of three Indian Unicorns combined in the transport, food delivery and payments markets.
With over 40 million app downloads, GO-JEK's platform powers the Indonesian equivalents of Indian Taxi Aggregators, Food Delivery Start Ups, HyperLocal Start Ups, Digital Wallet startups and Home Service based startups, all in one, at a comparable scale. Its GO-FOOD business alone does more daily orders than all Indian food tech start-ups combined.
GO-JEK Engineering India is the Bengaluru-based product development and training centre of GO-JEK. The GO-JEK Engineering India team comprises of developers, data scientists, designers and product managers who work on product innovation, mining data and crafting consumer experiences. The company takes pride in its world-class product engineering team who have a deep-rooted passion for working with the engineering community in India on topics such as innovation and Open Source.
We develop and build trusted, fault-tolerant systems that can scale to billions of users. We free our partners from operational complexity so they can focus on their business growth. We have over 300 clients in our portfolio - from start-ups to Fortune 500 companies, our Erlang & Elixir expertise is the backbone to their operations.

We're a talented team of software experts, passionate about Erlang/OTP & Elixir and with an unwavering belief in the open-source future. We offer a wide range of products, on-site/remote consulting, support and mobile development to architecture/code reviews and training.

We employ over 100 specialists working out of our headquarters in London and our offices in Stockholm, Krakow, Budapest, Berlin, San Francisco, Seattle and Buenos Aires. We speak 15 languages (excluding dialects) at the last count; we are open and friendly and working together comes naturally and brings a multitude of rewards.
Dyalog
delivers an APL-based development environment that allows users to create strong software solutions.
Dyalog is primarily a tool of thought, enabling subject matter experts to be key contributors in the software development process irrespective of whether they have experience within software development.
Dyalog is particularly well suited when tasks are of an analytical or mathematical nature. Through rapid prototyping of both simple and complex processes, users can create reliable, flexible and high performance solutions.
Today Dyalog is in daily use in many major corporations throughout the world.
Accelerating the software side of human technological progress...

Software is changing the world, and our mission is to help progressive software development teams adopt new technologies and practices. InfoQ provides software engineers with the opportunity to share experiences gained using innovator and early adopter stage techniques and technologies with the wider industry. We carefully curate and peer review everything we publish. We strongly believe that the high quality insights, offered by both our editors and other contributors, have the power to uplift entire communities, no matter what their native language. InfoQ currently offers content in English, Japanese, Chinese, Portuguese and French.

Senior software developers rely on the InfoQ community to keep ahead of the adoption curve. Our community editors aim to ensure that our readers never miss out on important trends. One of the main reasons software architects and engineers tell us they keep coming back to InfoQ is because they trust the information provided and selected by their peers.